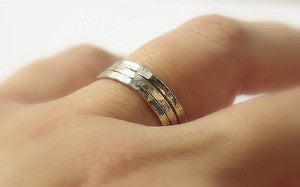 $

60.00
This set of 3 (three) x 14k WHITE GOLD FILLED stacking rings is made of 16 gauge wire (1.3 mm at the widest point).
I hand forge, solder, polish and hammer these rings myself, in my home studio in The Netherlands.
The natural color of white gold is actually a light grey color. I do NOT Rhodium plate my 14k white gold filled, so please do not expect these rings to have a bright white color, instead they will have a beautiful, subtle, glowing color.
14k gold filled jewelry will not tarnish.
Wear one, stack them all three, or wear this trio stack rings mixed with your other rings for a modern, classy look!
WHAT IS GOLD FILLED?
Gold filled wire is hollow gold tubing similar to what lightweight solid gold earrings and bangles are made from.In the case of gold filled wire the hollow tube has been strengthened with an insert wire,usually of brass,so that it can be bent, hammered or soldered without kinking or collapsing. Gold filled jewelry products are much longer lasting and more expensive than both sterling silver and,of course, gold plated jewelry and findings. Gold filled wire is available in all colors and karats of commercial gold jewelry.
When placing your order, make note of the size you would like in 'message to seller'.
If you need help figuring out your ring size please visit
http://www.bluenile.com/pdf/bluenile_ringsizer_copyright2008.pdf
I work only with top quality materials (sterling silver and gemstones that I purchase from long established companies). I will ship my items properly sanitized and securely packaged. I ship 5 - 6 week days after receiving cleared payment ,via PRIORITY MAIL.
❖My jewelry should arrive to you within 7 to 10 business days from the day of shipment. ❖
Of course, I appreciate your positive feedback:)
Thank you so much for looking!